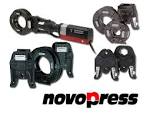 Novopress ECO 3 Data Sheet (PDF)

Novopress HSBL repair manual (PDF)

Novapress HSBL operating instructions (PDF)

Novopress Bending Benches BG repair instructions and spare parts (PDF)


Novopress press tools and jaws, repaired, serviced and calibrated. If you pressing tools has stopped working, this can be due to the fact it has not had a service in a while. All press tools should be tested and calibrated every twelve months. Problems can occur when a pressing machine has not been in for a service and calibration for many years.
We are able to undertake repairs, service and the yearly calibration of your Novopress tool. Please email your requirements and we can advise the best way to proceed.
Novopress pipe fitting technology As a specialist distributor of pressing tools from Novopress UK we have been selling the first pressing tool for use on pipe fixing systems since the start of the company. For type of pipe material and fittings from steel, stainless steel, copper or plastic pipe systems of PEX or multilayer, and regardless if the fitting has a sleeve or not, the Novopress tool are versatilely applicable. Durable leakproof pipe connections are made quickly in reliable quality. For the dimensions 12 to 168,1 mm, for radial and axial pressing systems, Novopress has a suitable tool. Always developed in close cooperation with the system suppliers. Because of this strategy the tool, the fitting and the pipe form an unit, which can be handled time and cost efficient. Please call or email your requirements for prices and spare parts.
ECO202 / ACO202 - powerful multi-talents
Smaller, lighter and easier to handle – these ergonomic principles got realized on the new pressfitting tooling generation from Novopress. The Comfort-Line pressing tools ACO202 (battery driven) and ECO202 (mains driven) are lighter than their antecessors and more handy in the grip area, so that the tool can be handled easily and safely. The surface is made of two components and the rubberised section is an additional advantage for the handling of the tools.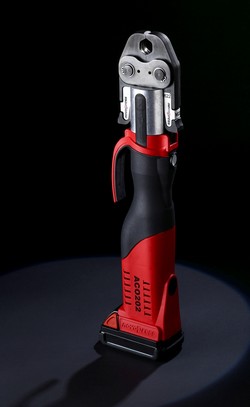 As with the former tools, the approved product features, such as i.e. the electronic retention bolt-monitoring or the automatic pressing cycle were implemented in the ACO202 and ECO202, as well as the diagnostic functions and the logbook that records the the pressing cycles very detailed. In addition to all the well known features, the pressing speed was significantly increased and because of the new battery technology with Lithium-Ion batteries the ACO202 can offer a higher level of efficiency. Furthermore every battery has a status indicator, which shows the current battery charge level.

ECO301 - Multitalent for big dimensions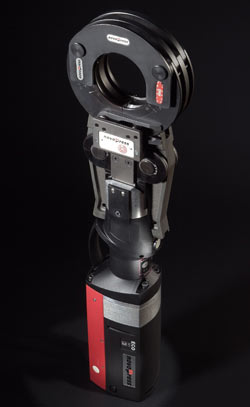 The pressing unit ECO301 with its compact dimensions stands for the best results on pressfitting joints from 12 mm up to 108 mm. The complete pressing process is driven and monitored by a microprocessor and ensures constantly optimal pressing performance. Easy handling and ergonomic design permit easy access even to the tightest pressing points. The electronic monitoring of the jaw-locking-bolt. And the automatic return after completion of the pressing joint are approved Novopress standards.

Short pressing cycles of approx. 12 sec., irrespectiv of the nominal dimensions, ensure quick and economic work-process. The pressing unit ECO301 is a tool for safe pressing of all common copper, carbon steel, stainless steel and multilayer pressfitting systems.



The cost of a press fit tool 15-76mm is as follows:-

ECO3 110v press fit machine = £2146.48
Pressing jaws 15mm, 22mm, 28mm, 35mm = £277.05 per set each
Pressing collar set 45mm & 54mm = £1507.23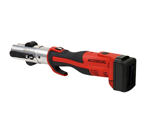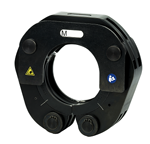 Pressing collar 67mm = £926.98
Adaptor for 67mm collar = £620.32
76mm collar = £684.40
Adaptor for 76 =£684.40

These items are for Yorkshire fittings.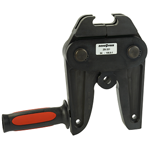 If you are pressing any other system price will be the same but we will need to know so as to order the correct collars

If you have any further queries please contact ourselves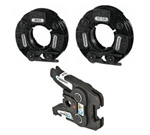 39659 SLB-125 Busbar Fabrication System
Cut, punch and bend copper and aluminium busbars with the Novopress SLB 125 three-in-one bus bar tool.
Ideal for flexible use in the workshop and on site. The basic unit transforms quickly and easily into a cutting, punching or bending machine. The complete bus bar fabrication system - combining accuracy with simplicity and speed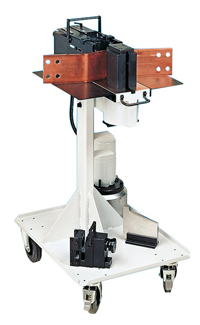 Advantages at a glance:
The study frame is very rigid to ensure extremely high-quality cutting, punching and bending and a long service life.
Built-in safety system protects the operator
Very fast tool change.
Long service life thanks to proven Novopress low-pressure system (150 bar) and tools manufactured from high-strength steel
Supplied with standard bending tool, cutting tool and 9,11 and 14mm punch & dies