The Ega Master tool range includes non sparking, underwater and titanium tools for pipe working for all industries.

Ega Master manufactures professional and industrial tools for the offshore sector. Ega Master offers the broadest tool range for engineering, mechanic, construction or electrical use; including striking tools, slogging spanners, pipe wrenches, threading equipment, pipe cutters, tubing cutters, pipe vices, hammers, tool sets and tool storage systems. All Ega Master tools are covered by a lifetime warranty.

The current range includes non-sparking, non-magnetic and corrosion-resistant tools manufactured in copper-beryllium, aluminum-bronze or titanium. These are essential for use in petrochemical plants, refineries, oil platforms, shipyards, mines, airports or nuclear industries. The range of intrinsically safe ATEX-certified explosion-proof instruments are available.
Non sparking tools

Manufacturing a substantial range of non-sparking tools: combination, side-cutting, gas-pipe, groove-joint and slip-joint pliers; open-end, combination and offset ring wrenches; slogging open wrench and slogging ring spanners; striking tools; socket wrenches, pipe wrenches, adjustable wrenches, chain wrenches, pipe cutters, wedges, punches, chisels, wrecking bars, pinch-bars, screwdrivers, shovels and more.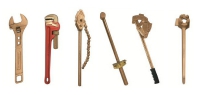 Each tool is available in one of two materials, copper-beryllium (Cu-Be, which provides the best mechanical properties) or the totally beryllium-free aluminum-bronze. All tools are forged rather than casted, guaranteeing maximum tensile-strength. Our non-sparking tools are ideal for maintenance work in hazardous industrial environments. Also manufactured are the only non-sparking alloy (Acetilex) that is safe in the presence of acetylene.
Titanium tools
Manufacturing the most technologically advanced tool range for the most demanding applications. Titanium tools are 45% lighter than steel, 100% non-magnetic, more spark resistant than traditional non-sparking tools and totally stainless and non-corrosive.
Titanium tools are ideal for use in environments where there exists a serious risk of explosion. They are also suited to marine or underwater maintenance, as titanium tools will never rust. Titanium tools are the ultimate in safety-conscious tools. Able to supply pliers, socket wrenches, spanners, adjustable wrenches and screwdrivers.
1,000V isolated tools
Ega Master manufactures a complete range of 1,000V isolated or non-conductive tools. Individually tested at ten times the required voltage in order to guarantee total safety, they are also tested for heat, penetration and impact resistance.
Piping tools
Ega Master is a specialist on piping tools, including some of the biggest hand tools in the world such as the 60in pipe wrench or the 12in hinged pipe cutters, which are specially designed for applications in the offshore, oil and gas industries.


As stockists for EGA Master Non-Sparking Tools the alternative for non-sparking applications in explosive environments. The tools are forged after casting to achieve highest quality in mechanical properties.

The Ega Master Non-Sparking range consists of the following product groups.
Pliers
Pinchers
Wrenches
Socket Wrenches
Special Wrenches
Extractors
Pipe Tools
Tweezers
Ratchet Spanners
Torque Wrenches
Hexagon Keys
Ratchets & Sockets
Pipe Wrenches
Strap Wrench
Pipe Cutters
Parallel Bench Vise
Screwdrivers
Files
Shovels & Rakes
Bolt Cutters
Scissors
Hack Saws
Knifes
Twist Drills
Hand Files
Chisels
Gear Pullers
Hammers, Picks & Axes
Copper-Berylium Alloy

Composition

| | |
| --- | --- |
| Be | 1.8%-2% |
| Ni+Co | 0.2%-1.2% |
| Other | <0.5% |
| Rest | Cu |

Hardness

283-365 Brinell

Tensile Strength

1250 N/mm2
Aluminium-Bronze Alloy

Composition

| | |
| --- | --- |
| Al | 10%-12% |
| Ni | 4%-6% |
| Fe+Mn | <5.8% |
| Other | <0.5% |
| Rest | Cu |

Hardness

229-291 Brinell

Tensile Strength

800 N/mm2
It is important to consider hardness and resistance that can be achieved with the materials used to manufacture non-sparking tools lower than that which can be obtained in tools made of steel. Properties And Features
| | |
| --- | --- |
| Property | Application or Benefits |
| Non-sparking | Appropriate for explosive potential environments |
| Non-magnetic safety | Essential for equipment that requires complete non-magnetic safety |
| Corrosion Resistant | Specially well suited for applications which encounter corrosive environments including marine works or fire-fighting applications |
| Forged after casting | Provides higher mechanical properties and better finishing |
| Ergonomic designs | The use of bi-material anti-slip handles, dipped anti-slip handles and ergonomic design makes mastering operating much easier and more comfortable |
These tools are not classified as anti-static because they do conduct electricity. Do not use high copper content tools (>65%) in direct contact with acetylene due to the possible formation of explosive acetylide, especially in the presence of moisture.
Explosive Group

Class of Temperature (Maximum Surface Temp. Allowed)

Temperature
of ignition

T1
(450°C)

T2
(300°C)

T3
(200°C)

T4
(135°C)

T5
(100°C)

T6
(85°)

450°C

300-
450°C

200-
300°C

135-
300°C

100-
135°C

85-
100°C

I

Methane

IIA (Energy of ignition higher than 0,18mJ)

Acetone

i-amyl acetate

Amyl alcohol

Acetald-
ehyde

Ammonia

n-butane

Gasolines

Benzene

n-butane

Gas-oil

Etilacetate

1-butene

Heating-oil

Ethyl acetate

n-hexane

Methanol

i-propanol

Propane

Vinyl chloride

Toluene

IIB (Energy of ignition between 0.06 & 0.18 mJ)

Hydrogen cyanide

1.3 - butadiene

Dimethyl ether

Dietileter

1.4 - dioxane

Ethyl
glycol

Coal gas (lighting gas)

Etylene

Hydrogen sulphide

Ethylene
oxide

IIC (Energy of ignition less than 0,06 mJ)

Hydrogen

Acetylene

Bisulphide of carbon

Gas of water

Ethyl
nitrate
Tools made of Cu-Be alloy can be used in all groups (I, IIA, IIB, IIC) in a safe way, always respecting the maximum surface temperature allowed, with the only exception of acetylene, with which copper might react and create highly explosive acetylite gases.
Tools made of Al-Bronze alloy can be used in a safe way, always respecting the maximum surface temperature allowed, except for the IIC group (Hydrogen, gas of water, acetylene, bisulphide of carbon, Ethyl nitrate).
Copper or brass tools are safe in explosive environments of risk groups I and IIA. It is safe to work with them in these environments. EGA Master has available a complete range of copper and brass hammers and mallets made in both materials. It is convenient to know that copper or brass tools can never be considered as alternatives to aluminum-bronze or copper-beryllium alloy tools, because their hardness is too low for most applications. There is the temptation to choose copper or brass tools due to their lower cost compared to aluminum-bronze or copper-beryllium ones. This choice is not only risky in itself, but in the short/mid term it will be necessary to replace them for new ones for the wearing out suffered due to their low hardness.
For this reason, copper or brass tools should only be used in those jobs that have to be made in risky environments (I and IIA), if the same job would be made with copper or brass tools in a non-risky environment. In case you would use a steel tool in a non-risky environment, than you should choose for your safety and profitability tools made in aluminum-bronze or copper-beryllium alloys to make the same job in a risky environment, never a copper or brass tool.
Acetilex Alloy, Safe Work Even in Acethylene Environments
Items with copper compositions higher than 65% should not be used in acetylene environments. Both aluminium bronze and copper-beryllium alloys do have higher copper compositions than 65%. The reason is not that copper beryllium can create a spark with enough energy to create the ignition of acetylene, but that copper can react with acetylene creating highly explosive acetylates.
For this reason, copper-beryllium or aluminium-bronze alloys should not be used in acetylene environments. Ega Master S.A., is always committed to finding new innovative solutions that will increase safety, we have developed the ACETILEX alloy, 100% safe to be used in acethylene environments. Once again, pioneers in safety.
Main Application Fields
| | | |
| --- | --- | --- |
| Petrochemicals | Fireworks Industry | Mines |
| Refineries | Chemical Industry | Defence |
| Oil Companies | Paper Making Industries | Air Forces |
| Gas & Oil Pipe Lines | Flour Silos and Mills | Navy |
| Power Stations | Breweries | Weapon & Ammunition Fabrication |
| Paint Manufacturing | Alcohol Processing Industries | Aerospace Industry |
| Plastic Manufacturing | Distilleries | Automotive Industry |
| Pharmaceutical Industry | Fire-Fighters | Etc. |
Instructions For Use & Warranty
Non-Sparking Tools cannot reach the hardness of conventional tools. For this reason the use of Non-Sparking Tools has to be carried out with special care, avoiding overstraining, heating, etc.
The use of Non-Sparking Tools must not be the only preventive measure in areas which the items are designed for. Other items, clothes or present material must also be adequate for non-sparking purposes.